,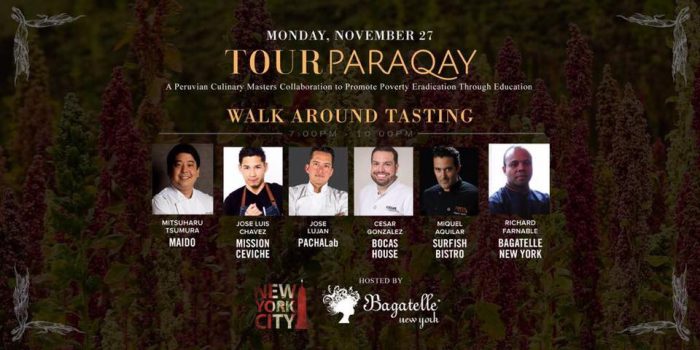 Tour Paraqay – a tour of renowned chefs hosting fundraising dinners across the United States. A Peruvian Culinary Masters collaboration to promote poverty eradication through education, with the following participating Chefs:, Mitsuharu Tsumura – Maido; Jose Luis Chavez – Mission Ceviche; Jose Lujan – PACHALab; Cesar Gonzales – Bocas House; Miquel Aquilar – Surfish Bistro; Richard Farnable – Bagatelle.
Chef Jose Luis Chavez of Mission Ceviche and Jose Lujan of Pachalab will host Tour Paraqay, the first stop on the Peruvian MasterChef fundraising tour to raise money for hospitality and educational training for underprivileged students in Cusco, Peru
The Chefs are putting together a world class menu that will surely excite your palate accompanied by traditional Peruvian cocktails. Each chef will create signature dishes representative of Peru's diverse culinary landscape and heritage for a three hour walk around tasting accompanied by cocktails provided by Pisco 100 and Pisco Porton. The event will consist of an hour passed Hors D'Oeuvres followed by Culinary Stations each held by one of the Top Chefs. All within the renown Bagatelle's exceptional atmosphere and Joie de Vivre.
Mitsuharu Tsumura of Maido, awarded Best Restaurant at Latin America's 50 Best Restaurant's Awards will travel to New York for the event and join Cesar Gonzalez of Bocas House in Miami, Miguel Aquilar of Surfish Bistro in New York and Richard Farnable, executive chef at Bagatelle NYC.
TICKETS HERE : EVENTBRITE
COMO LLEGAR